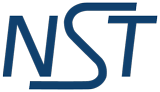 NS TECHNO (THAILAND) Co.,Ltd.
Designing,Manufacturing,Installation,Maintenance&Training of Dust collectors,Furnaces,Incinerators,Rotary equipment,Transport equipment.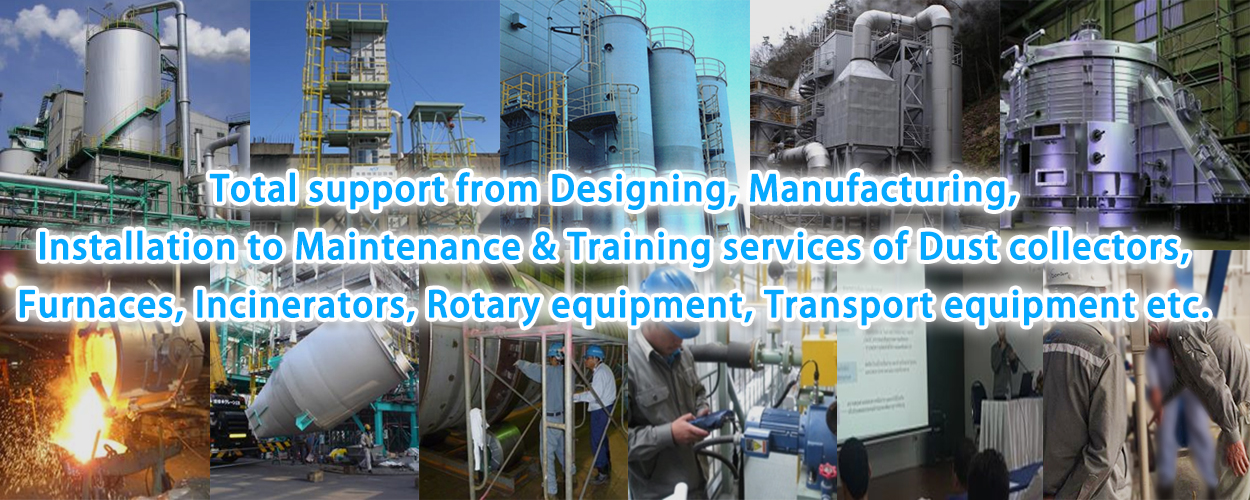 NS TECHNO (THAILAND) has extensive experience in maintenance at powder production plants.
We think that preventive maintenance and improvement maintenance are important, and contribute to the stable operation of equipment (improvement of equipment proof stress) by maintenance.
Our forte is monitoring rotating equipment (condition check), good quality maintenance and training services.
In addition, We are possible to solve the problems of equipment defects and make suggestions for improvement.
NEW!!

 Movable cyclone vacuum cleaner
Our vacuum cleaner

● Customize according to the powder you want to clean.

● Mobile unit.
(Can also be used as a mobile local exhaust system)

| | |
| --- | --- |
| Work efficiency improvement | Cyclone type does not fall suction force compared to the filter type. |
---
---
Industrial machinery and equipment

(Design,Fabrication,Installation,Maintenance)
◆Dust collector
Pulse jet type, Back flushing type, Cyclone, Multi-cyclone
High efficiency, space saving, energy saving type, we can make designs that meet customer's specifications. We will also manufacture with anti-corrosive materials. Ventilation equipment for work environment measures is also possible.
◆Equipment for powder
Screw conveyor, Bucket elevator, Rotary feeder, Rotary kiln, Hopper, Tank
It is also possible to manufacture and lining with various corrosion resistant and wear-resistant materials.
If you have trouble with adhesion, dust scattering, powder transport etc, please contact us.
◆Various furnaces
Electric furnace, Incinerator, Reaction Furnace, Melting furnace, Drying furnace
We can propose to prolong the life of the lining material and reduce the repair cost.
There is a network of cooperating companies in Rayong area that can handle various constructions, fabrication, furnace, piping, frames, insulation, scaffolding , etc.
⇒ We will contribute to customers by construction quality control of our company.
Please inform our company when planning for new equipment, renewal and remodeling.
We will do construction utilizing know-how born from experience of plant maintenance.
Preventive Maintenance Service
"Equipment failure rate reduction", "Equipment operating rate improvement",
"Equipment reliability improvement"
Words are different by customer, you are doing various improvement activities.
How can we make stable operation without failing equipment?
"Stable operation without failing equipment"


We use the word "Equipment proof stress Improvement ".
Operating equipment in good condition, not give stress to the equipment body.
⇒ To fulfill the original equipment life.
+ Improve the weaknesses of equipment and increase life time.
Determine condition of equipment by inspection.
Find the problem of equipment and investigate the cause. To confirm the effect of improving after maintenance.

Inspect items to be checked reliably,
Maintenance with high quality and accuracy.
Abundance of improvement ideas when finding problems of equipment.
Our company can totally support the maintenance of rotating equipment.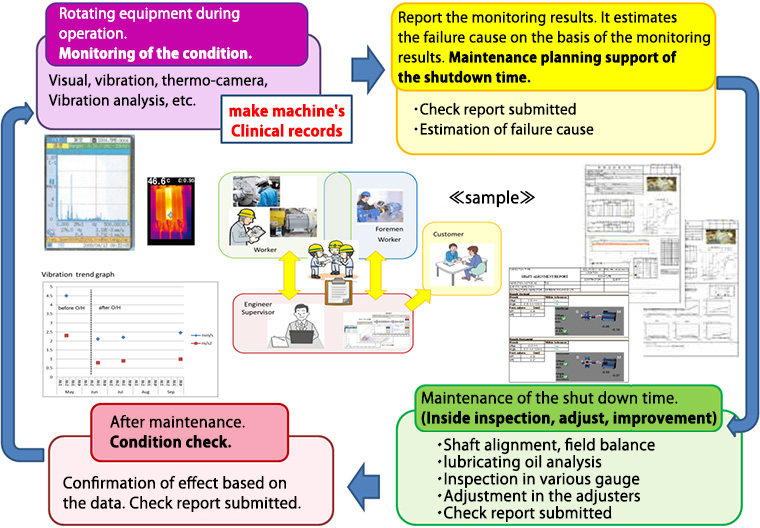 We will submit the "easy-to-understand" report.​
Maintenance Service Page Monitoring Service Page
Machine Maintenance Training Service for Thai Staff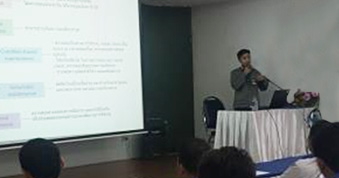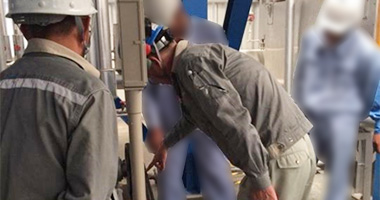 ​
■Maintenance / Preventive Maintenance Course and other ⇒ all 7 courses​
There are many courses of maintenance education which are carried out in Thailand, but there are many education on systemization such as theory and introduction guidance, I think that there are few practical education courses.
The training course of NS TECHNO born from customer's needs
・Recognizing the significance and purpose of maintenance,
・Basic knowledge of maintenance and practical contents
・By utilizing a lot of, such as graphs and illustrations and photos
It is a teaching material that is easily transmitted to Thai people. Educational materials and explanations are all in Thai, even those who are not good at English can understand.