Hamasho Corporation (Thailand) Ltd.
Authorized distributor of YAMAHA Robot & Universal Robots. Professional of Automation solution.
| | |
| --- | --- |
| Yamaha Motor Co., Ltd. | |
Only Yamaha can provide a unified lineup from miniature actuators to articulates robots.
We provide the best solution for a wide range of automation.
Low Cost High Performance SCARA Robot YK-XE

Efficiency In Production
For improved efficiency and reliability in production at affordable price
Arm length:400mm to 710mm Maximum payload:4kg to 10kg
Feature

Optimal for transfer and assembly of automotive parts
Maximum payload:10kg * For YK610XE-10 and YK710XE-10

Improvement of productivity by high-speed operation
By reviewing the arm structure, the vibration is reduced and the motion is optimized to shorten the standard cycle time. High-speed, less-vibration, and agile operation contributes to improvement of the productivity.
​
For a wide variety of applications Maximum payload 4kg to 10kg
The models support a wide variety of fields such as assembly work that requires a high precision or food sorting work that requires a high-speed operation. As the maximum payload is 10 kg, heavy workpieces such as automotive parts can also be supported.

Affordable Price and Improved Performance
Both the high operation performance and affordable price are achieved. Production equipment with high cost performance can be constructed.

In Yamaha YK-XE series Acceleration/Deceleration is optimized automatically
The optimal acceleration and deceleration are automatically selected from the arm posture at the time of operation start and the arm posture at the time of operation end. The motor peak torque or the tolerable peak torque of the speed reducer is not exceeded by inputting only three parameters*. The full power of the motor is always output to maintain the high acceleration/deceleration.
* Payload, R-axis moment of inertia, and offset amount of R-axis moment of inertia


Drop-In upgrade by common platform design
The installation position of the YK400XE-4 is fully compatible with that of the conventional model YK400XR. This ensures easy replacement work.

Easier operation in combination with the RCX340 controller
RCX340 comprehensive controller brings out maximum potential of YK400XE robot system. Optional integrated vision system "iVY2" provides simplified image processing. Choice of PC Programming Software or Teaching Pendant available.​
​​
⇒Other SCARA Robot Information

Articulated robots YA Series 6 axes / 7 axes
Ideal for constructing compact cells, for moving or assembling small parts, and for performing inspection processes.
The articulated robots 'YA series' pursue high speed and space saving to contribute to production facilities for improved productivity and downsizing.
Combined with a running axis, the YA series robots make the transport between processes more efficient. Best suitable for building up a compact process cell and processes of transporting small parts, assembly, and inspection.
| | |
| --- | --- |
| YA Series 6 axes | YA Series 7 axes |

​​
Liner Conveyor Modules LCM100
Next generation linear conveyor LCM100 supersedes belt conveyors and roller conveyors.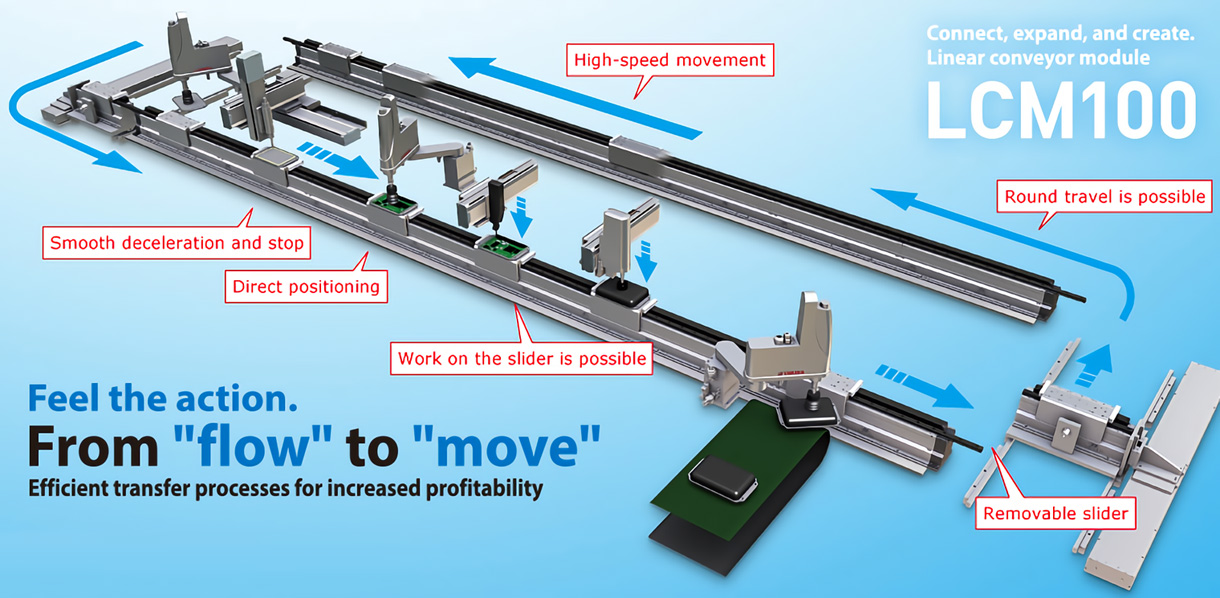 Improve takt time

Increased throughput

​

Excellent maintainability

Reduced transport line space

Flexible line configurations

Shorter start-up time

Lower running costs

​

Long service life
高スループット組立ライン
リニアコンベアLCM100

Features --- Linear conveyor modules
"LCM100" [YAMAHA]

YAMAHA PAS
Speedometer Assembly Line

​

Examples of Transfer Applications
Linear Conveyor Module LCM100
Feature
To all customers who have concerns regarding your production line
The issues facing the manufacturing industry continue to increase each year: shortened lead time, reduced cost, increased product quality, support for small production lots of diverse types, and reduced installation space.At a single stroke, the LCM100 solves these issues by fundamentally overturning existing concepts of transport between manufacturing processes. Why not implement the next generation of production line with us?


Stepping motor single axis robot

TRANSERVO series have exellent characteristics of both the stepping motor and servomoter.

Single axis robots

A wide variety of single-axis robots, FLIP-X series, from super-compact size to super-long stroke.

Linear motor single axis robots

Delivers superb performance during long distance conveyance!
Cartesian robots

Offering a full lineup of Cartesian robots to support a wide array of applications.

Controllers

High-performance controllers that support the YAMAHA industrial robots.

Pick & place robots

Ideal for high-speed pick & place tasks using small parts.
Clean robots

Cleanroom model robots.

Robot Vision System

iVY system makes it possible to propose new production lines that do not require workpiece positioning and teaching.

​

Electric grippers

An electric gripper achieving the highly accurate gripping force, position, and speed control.
Base Machine

The base machine which combines advanced mounter technology in module size with easy to use robot functionality.

Cable

Dimensional diagrams and model numbers of the robot cables, cable terminals, and connectors are available.

​