HIKICHISEIKO (THAILAND) CO.,LTD.
Precision machining/design and manufacture of production facilities/equipment such as labor-saving/FA equipment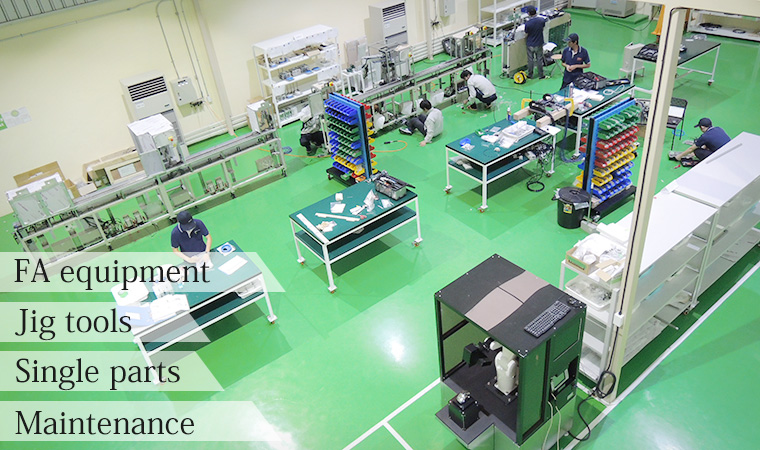 ​

We receive the specifications for a product from a customer, and create a conceptual drawing.

Once we have made the conceptual drawing, we meet with the customer to get his or her approval for the specifics of the design of the product. Then we begin to create detailed drawings of the parts and components of the product.

We make all the designs for all parts of assembly lines, self-standing machines, and jigs.
​

The control division designs software and hardware products based on PLCs (sequencers). This division is able to use PLCs from many different controller manufacturers. Therefore, we can install, wire, and debug whatever PLCs our customers designate for their equipment.

We can also incorporate single axis or SCARA robots of many different manufacturers.
​

The assembly division takes over the work from the design division, and by following the assembly drawings assembles the parts and components into the product. We measure the stacked tolerances of the product as necessary, and send the data to the customer along with the product.

We install and adjust the product, and complete the delivery by confirming that it is working properly.

At the customer's request, we install our machines anywhere, in Japan or overseas.
​
| | | | |
| --- | --- | --- | --- |
| Equipment | Model | Maker | Unit |
| CAD | Solid Works Professional 2019 | SOLID WORKS | 6 |
| CAD | AutoCAD/INVENTOR | Autodesk | 4 |
| Electric CAD | AutoCAD Electrical | Autodesk | 4 |
| Milling machine | | | 1 |
| Lathe | | | 1 |
| Drilling machine | | | 1 |