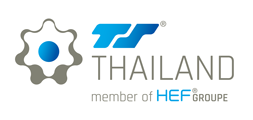 Techniques Surfaces (Thailand) Ltd. / TS Thailand
Nitriding Surface Treatment and PVD Coating services
Salt bath nitriding treatment, DLC coating treatment service.
---
TS Thailand is a member of the France HEF Group and has received BOI approval from Thailand. The HEF group is a global leader in surface treatment technology. For a long time, through R & D activities specialized of tribology (friction, wear, sliding), the HEF group leads surface treatment technology in a number of fields including automobile, aerospace industry, heavy industry, oil and gas drilling technology. Among the many holding technologies of the HEF group, TS Thailand currently offers two surface treatment services, mainly DLC treatment and salt bath nitriding treatment.
Company Name
Techniques Surfaces (Thailand) Ltd. / TS Thailand
Business Description
Salt bath nitriding/DLC treatment service
Address
Amata City Chonburi Industrial Estate
700/15 Moo 6, T. Nong Mai Daeng, Mueang, Chonburi 20000
Thailand
Contact
TEL +66-38-213-818
FAX +66-38-213-789
(JP) Fumitoshi Abe : fabe@hef.group +66 (0) 802 52 28 98
(TH) Chirapan Wongsamart (Sales Engineer): wchirapan@hef.group +66 (0) 838 35 08 45
(EN) Michel PELTIER: mpeltier@hef.group +66 (0) 968 10 99 38
Major Customer
Thai Asakawa Co., Ltd.
Thai KJK Co., Ltd.
##cookieAndPrivacyPolicy##