Taiyo Manufacturing (Thailand) Co., Ltd.
All for customer`s pursue infinite of possibilities of plastic working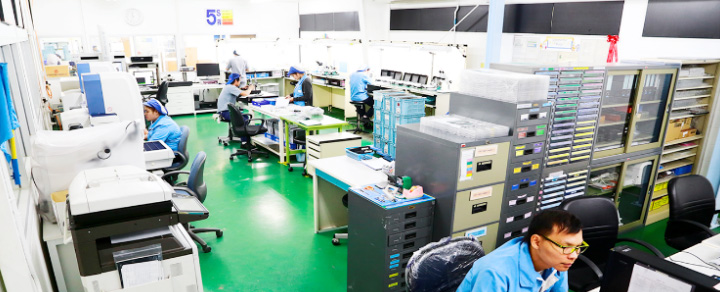 High Quality - Small Environmental Burden
 Quality / Environmental Policy
We provide customers with high-grade metal pressed products based on the improvement in customer satisfaction and contribution to the establishment of an earth-friendly recycling-based society through strategic deploy as a technological development type value creation company.
We comply with statutory and regulatory requirements, requirements specified by customers, requirements of ISO 9001/14001 and IATF16949 and any additional requirements determined by the Group.
We advance management innovations by setting target,implementation of plan and review the result at each hierarchy in order to ensure steady implementation of the quality policy.
We are committed to preventing defect and reducing variation and waste.We will focus on improving customer satisfaction.
We embrace environmentalism by the action of contamination prevention, energy saving, natural resources saving, CO2 reduction, prevention of global warming by efficient pruduction, recycling, and any activities of ecosystem protection according to environmental effect evaluation.
We continuously improve management system to strive to aim at improvement of the quality and environmantal performance.
We document this policy and ensure full awareness of all employees and disclose it for the communication with the society.
| | |
| --- | --- |
| | |
| Coordinate Mesuring Machine (CMM) | Quick Vision Apex |
| | |
| --- | --- |
| | |
| Surface Roughness Tester | Image Dimension Measuring |
| | |
| --- | --- |
| | |
| Contour Measuring Machine | Micro Vickers Hardness Meter |
Measuring instrument

Quick Vision Apex
MITUTOYO
QV-X802P1L-C
3units
Quick Vision Active

MITUTOYO

QV-L202Z1L-D

1unit

Image Dimension Measuring
KEYENCE
IM-6500E

1unit

Measuring Imaging Microscope
ARCS
SVP-2010

1unit

Coordinate Mesuring Machine (CMM)

MITUTOYO

APEX S544

1unit

Surface Roughness Tester

MITUTOYO

SJ-210

1unit

Micro Vickers Hardness Meter

MITUTOYO

HM-220

1unit

Rockwell Hardness Meter

MITUTOYO

HR-430MR

1unit

Contour Measuring Machine

MITUTOYO

CV-2000S4

1unit

ISO Scope
FISCHER
FMP30

1unit

General Measuring Tool
-
-

1unit