Okamoto (Thai) Co.,Ltd.
The Worlds Total Integrated Grinding Machine Manufacturer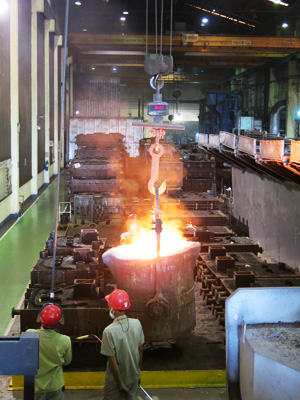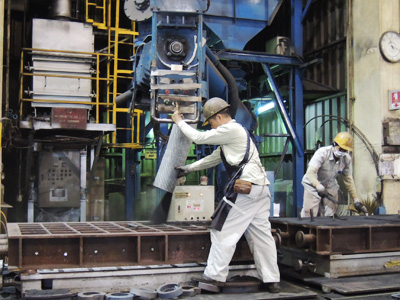 | | |
| --- | --- |
| Okamoto promotes the start-to-finish integrated production system. | |
Wooden Pattern

Casting

Painting
Machining

Assembly

Shipping
Sheet Metal
Cleaning
Painting
It is Okamoto's motto to provide high-quality and high-precision products.
All casting of machine base are manufactured from wooden pattern.
With group efforts, we are able to make the in-house integrated proudction a reality.
As always, we will continue to supply superb products.
| | | |
| --- | --- | --- |
| | | ​ |
Casting is an important element for machine tool; wooden pattern is essential for castings.
Okamoto design the wooden pattern in house to produce rock-solid castings which is a critical component to a surface grinder. There is strong point to make Grinder with rigid frame.

Type of wooden pattern: Long-lasting wooden mold, Resin pattern, Foam pattern
| | | |
| --- | --- | --- |
| | | ​ |
Okamoto manufacturing products from cast iron. It enables improvement quality, cost reduction and shorter lead time.
It is possible to correspond the base of customers demand.

Production capacity: 1,800ton /month (both old and new factories)
We own one of the largest surface grinding machine in Southeast Asia.

​​​

Machine:
Laser cutting machine, Gas cutting machine, Turret lathe
Automatic painting system

​​​
A scraping process to reduce the resistance of the slideway surface is essential to the long term peak precision of a surface grinder. We inherit the unique scraping technique and pass on to the next generation.

Production capacity: max.120units /month
| | |
| --- | --- |
| Environmental Activities | |
​

Casting was newly formed in the Thai plant , We are aiming to clean foundry, it has become a dust and dust collection of gas, plant that was also friendly to sand recovery and reuse and environmental equipment.

​