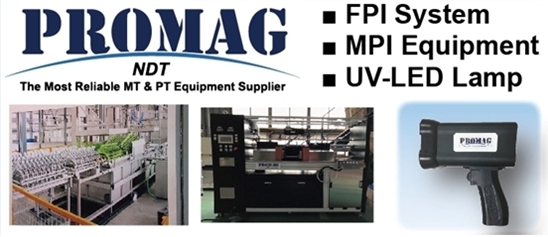 PROMAG Technologies Development Limited
Most reliable Magnetic particle test(MT) & Penetrant test(PT) Unit Maker in NDT/NDI.
PROMAG, a professional flaw detection system maker of magnetic Particle test & fluorescent penetrant test in non-destructive inspection from Taiwan. Since its foundation in 1990 as a manufacturer of flaw detection agents, our group of companies has grown to develop, manufacture and sale a complete range of magnetic particle inspection systems, fluorescent penetrant inspection equipment, fluorescent magnetic particle consumable and fluorescent penetrant consumable and cleaner in non-destructive inspection while continuing to offer solutions that accurately meet a wide range of customer demands.
Company Name
PROMAG Technologies Development Limited
PROMAG Technologies Development Limited
Representative Person
POSHENG, CHIANG
Business Description
Quality assurance is vital to all industries so it is only achieved through meticulous non destructive testing and rigorous NDT inspection. That is where PROMAG Technologies comes in. We are proud to offer a complete line of liquid penetrant inspection/fluorescent penetrant inspection(LPI/PT/FPI), magnetic particle inspection(MPI/MT), and relative accessories(Ex:UV LED Lamp) and processing consumable materials(Ex:Fluorescent magnetic particle,fluorescent penetrant, emulsifier, developer, cleaner), all of which are designed, developed, customized manufactured, supplied specifically for the nondestructive testing (NDT) industry.rnrnWhether it's aerospace, millitary(air force), automotive, motorbike, hand-tool, petrochemical, manufacturing or transportation, NDT can save industries time and cost, assisting with safety part detection and evaluation, research and troubleshooting.
Product Line
1. Development, manufacturing and sale of nondestructive equipments(Ex: Magnetic Particle Inspection / MT / MPI Machine, De-Mag Machine, Anti-corrosion Conveyer System, Ultrasonic Cleaning System for part pre-clean or post-clean, Fluorescent Penetrant Inspection / FPI / PT / Liquid Penetrant Test / LPI System, Etching System, UV-LED Lamp, Fluorescent Wastewater Treatment, i-Check Unit for NDT AI-robot Check) 2. Development, manufacturing and sale of nondestructive consumables/chemicals(Ex:Cleaner, Fluorescent Magnetic Particles with dry powder & concentration/Ready-to-use type, Suspension Carrier Oil, Fluorescent Penetrant, Emulsifier, Developer in drum packaging & aerosal. 3. NDT Service & Consultancy(Ex: Personnel Qualification & Certificationrn, ASNT Level III Team, NAS410 / TC1A Service Training.)
Address
9F., NO. 25, SIYUAN RD., XINZHUANG DIST., NEW TAIPEI CITY 24251, TAIWAN (R.O.C.)
24888
Taiwan
Website
http://www.pmtndt.com/
Establish Date
Since 1990
##cookieAndPrivacyPolicy##