บริษัท ทริโก้ควอลิตีเซอร์วิสเซส (ประเทศไทย) จำกัด
เสนอบริการสนับสนุนและการตรวจสอบรับรองทางด้านคุณภาพ
ตัวอย่างงานในประเทศไทย
---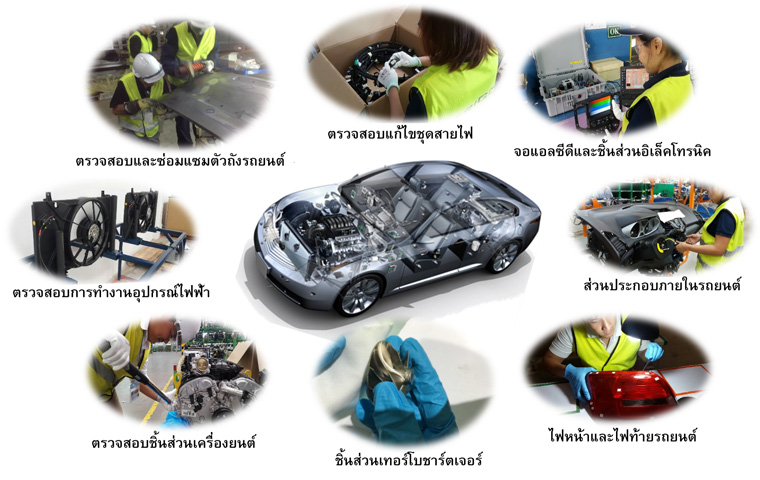 ​
Click on the panels for more info
---
​



CMM Measurement – New Part Approval

Measuring – Motorcycle Frame to set up weld-jig fixture

New model motorcycle frame move from oversea supplier to local supplier. There for customer want to set up a new machine with jig fixture with correct data and follow by the design.

Trigo provide measuring test to support all jig and finish good alignment.
---



Frame Assembled Alignment check

Confirmed Motorcycle Frame assemble alignment

Customer found defective, assembled Frame mis alignment in production process.

Trigo provide inspector team to check and confirm Frame Alignment at customer production line before final assembly.
---
Rubber Seal component inspection

Brake Booster Seal damaged / deformed

Oversea Suppliers deliver Brake Booster Seal component to customer in Thailand. Due to the damaged/deformed seal, it caused the leakage in Brake Booster Pump. This is severe safety critical function.

Trigo team provide the quick and flexible 100% inspection solution to customers at Trigo Inspection Center. Controlled Air-Condition inspection clean room was installed to perform the mission. Trigo Guarantee 100% the inspection result.
---
100% Visual Inspection

Electronics Component visual inspection

OEM customer require 100% visual inspection for first delivery lot during new vehicle launch.

Trigo team provide 100% quality firewall inspection before delivery to OEM customer. Trigo warranty the 0ppm result at OEM customer line. Both Tier 1 manufacturing and OEM customer are very satisfy with the result that no defect found during the vehicle launch phase.
---
Engine Component inspection

Dimension inspection

Supplier delivers Engine components with non-conformed dimension to specification. Impact to assembly process and engine performance.

Trigo team provide Dimensional inspection by Digital Calipers to ensure 100% good parts deliver to production line.
---
Electronics Rework

Automotive Wiring Harness Rework

Tier 1 supplier has updated the Wiring Harness Design and have significant old model inventory need to be rework.

Trigo Team provide technician inspectors to do the Wiring Harness rework at customer location. The team was trained and supervised by Trigo Quality Engineer.
---
Functional testing and Inspection

Entertainment Unit Testing and Inspection

New model vehicle entertainment head unit delivered with malfunction and defective LCD screen. OEM customer do not have an incoming functional test. The defective units create off-line rework and interrupt the production line.

Trigo provide technical inspectors to perform 100% functional test before deliver to production line. All power supply and test equipment provided by Trigo Team.
---
​

Functional Test

Cooling fan function test

Car manufacturing OEM detected the smoke and burnt of cooling fan motor in assembly line after engine start up. More than 2,000 units of cooling fan assembly were rejected. Cost of scrap significantly high.

All rejected Cooling Fan assembly units were sent to Trigo's Inspection Center where we developed the function test station to ensure all parts meet customer required standard & specifications. The rejected parts were separated and returned. Significant cost saving to suppliers for avoiding scrap of complete assembly unit.

​
---
Rust Removal

Rust removal on metal components

Thailand's environment has very high humidity. Metal parts easily get rust during long transportation and storage. Time consuming and labor intensive for OEM and Suppliers to rework on rusty components in production line.

Trigo can provide alternative solutions from Mechanical rework to Chemical rust removal process to meet specific customer requirement and acceptant criteria at competitive cost.

​
---
BIW inspection and rework

Body In White (BIW) stamped metal panel Inspection & Repair.

Body panel delivered from oversea supplier with dent and surface damage. Trigo Team provide technical repair team to support at customer site before parts deliver to body shop assembly line.

​
---
Control units' Program Flashing

Control Units' Flashing update program

Nowadays, vehicle's control units require continuously program update to enhance vehicle performance & improve drivability. Managing control units' program update to the latest version for the entire assembly processes, warehouse stock and in-transit inventory could be a challenge task.

Trigo provide technical team to support OEM and suppliers to manage the re-flashing program and ensure all vehicles and inventory parts are updated with the latest software version.

​
---
Finished vehicle inspection

Completed Vehicle yard inspection

Mixed coil spring from supplier delivered in to OEM production line – different dimension with the same part number and marking identification.

Finished cars inspection before delivery approx. 2,000 vehicles in 4 parking yard locations including Leam Chabang Port shipping yard before loading to sea freight container

Mission completed within 5 working days. Trigo team continue to support OEM production line till complete in-transit suspect parts and certified shipment arrived.

​​
---
Finished vehicle rework

Replace Wiper Arm in Completed Vehicle

Quality incident on Wiper Arm were detected at OEM vanished vehicle.

Trigo provide technician to replace new Wiper Arm on 120 units of completed vehicle at OEM parking yard. All trained technicians and tools required are provided by Trigo.

​​​
---