Back to Fact-Link's Top Page > Printing, Labeling > OKI SYSTEMS (THAILAND) LTD.



OKI SYSTEMS (THAILAND) LTD.
Sales of color label printer and compact office printer for increased efficiency
For short-run & various labels
Cost reduction / More efficient operation / Shorter Lead Time
by Color LED Label Printer Pro1050/1040
​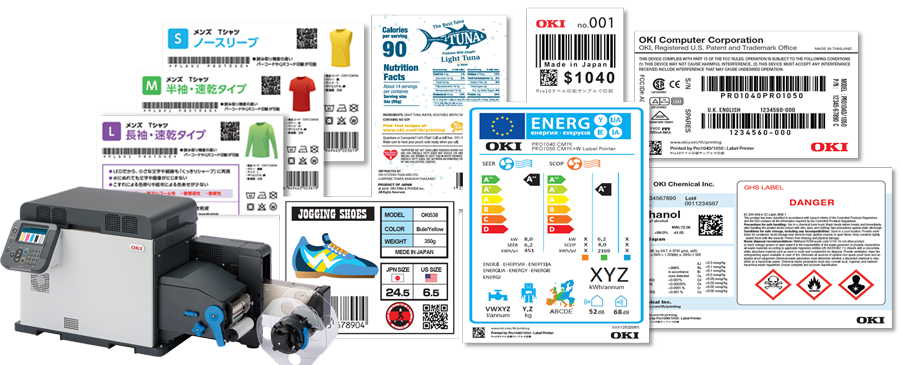 Point 1

Color on-demand printing

Point 2

More options of label media such as film and synthetic paper

Point 3

Water/alcohol/scratch resistant printing

BS5609 (section 3) certified

Point 4

High quality printing of small characters/micro lines at 1200 dpi
| | |
| --- | --- |
| ※1 | Label media may affect print quality and printer functionality, hence it is recommended that any label media be quality-checked and tested first. |
| ※2 | British standard for durability in marine transportation |
Business Advantage
Pro1050/1040 series are table-top sized, toner-based colour LED label printers. It's ideal for short-run printing of a range of different label media with sunlight/scratch/liquid resistance. Pro1050/1040 printer doesn't require exclusive papers but can print on a wide range of label media and save running cost with cheaper media. OKI Pro series provide high quality color labels on demand without the pre-printed label stock and will bring efficiency, short lead time, and cost reduction.
>Click here for product features
Case Study
Case Study
Color Tag

Would you like to save time and increase efficiency for manual cutting and gluing paper?

​

​

By Pro1050/1040,

Auto cutting of label/paper Reduce man-hour

​Reduce man-hour

On-demand print Reduce paper waste

​Reduce paper waste

No exclusive paper, removable labels

​Don't come off and remain glue

​​

No exclusive paper, removable labels
Don't come off and remain glue.
By Pro1050/1040,