บริษัท สยาม เซมิตซึ จำกัด
Sales & maintenance of CHILLER, DEHUMIDIFIER, VACUUM PUMP, A/C FOR CLEANROOM and air dryer. Saving Energy Solutions!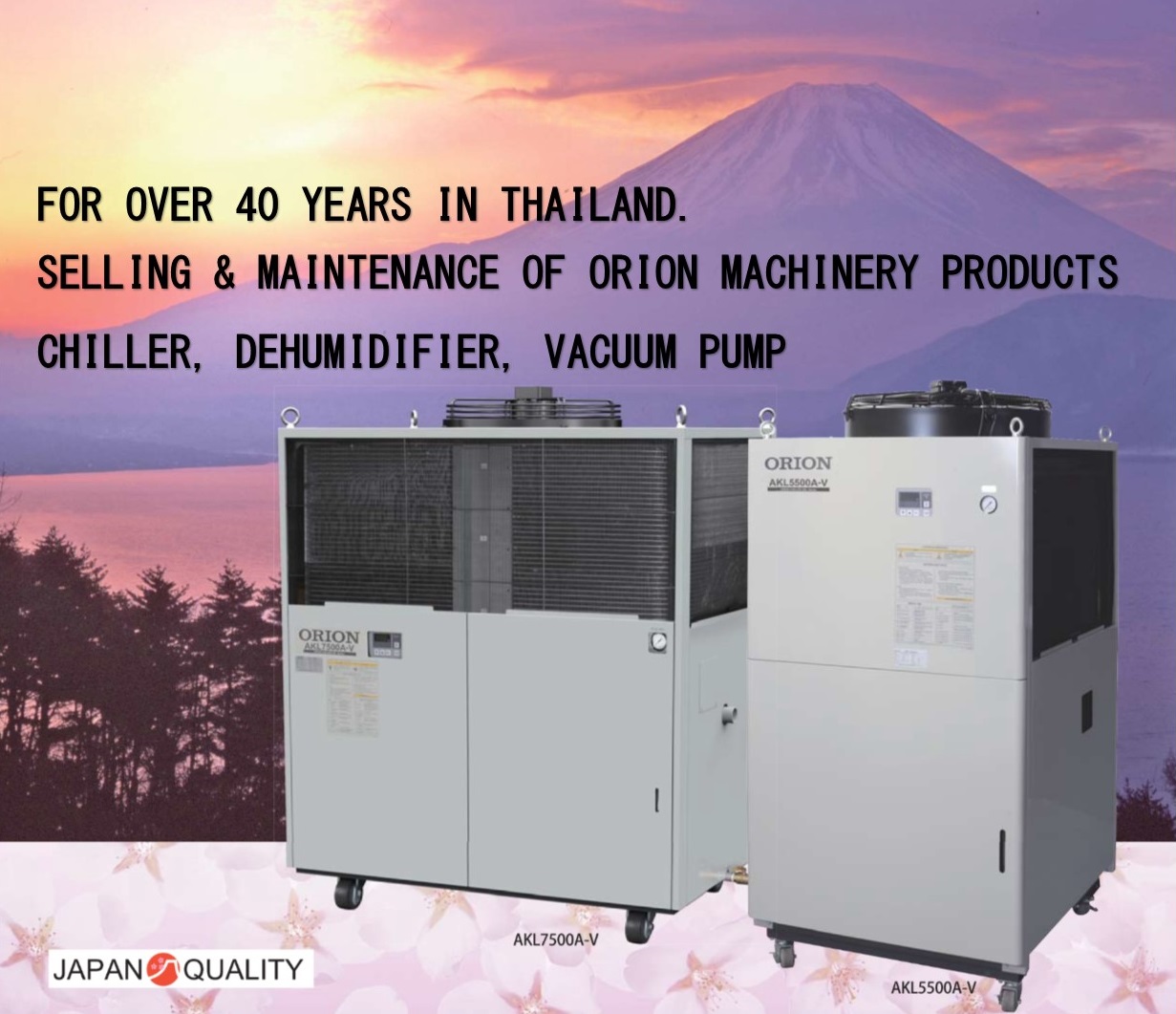 Siam Seimitsu, located in Ekachai, Bangkok, is a leader of Industry for over 40 years in Thailand selling and maintenance of ORION MACHINERY PRODUCTS specialized in Water chiller, Dehumidifer, Vacuum pump, Precision air processor for clean room/booth, compressed air tool. We have experience, reliable technique and be able to offer the best solutions to customers.
[Sales Person] Mr. Fujimaru

Mobile: +66-80-304-2777
E-mail : fujimaru@siamseimitsu.co.th
| | | |
| --- | --- | --- |
| | PRODUCT 4 GROUPS | |
①『TEMPERATURE CONTROLLING』
WATER CHILLER

PRECISION AIR PROCESSOR
(FOR CLEAN ROOM/BOOTH, CHAMBER/PAP)

ORION Water Chiller unit can flow stable cold water into the heat generator for any type of heat.

There are Inverter type (Made in ) and normal type (Made in ) depending on the budget. For those who are using cooling tower, we can solve the problem with tempeature & water quality. It will contribute to production efficency of your factory.
②『Dehumidifying & Drying』
​

Industrial Dehumidifier

Any troubles with Rust, Mold, Humidity ??

『Rust on the product in storage・・』

『Deformation of carton box in storage・・・』

『Precision and Efficency decrease due to high humidity・・・』

『Mold on material during rain season・・・』

ORION Dehumidification dryer is absolure solution with reliable quality and is needed during rainy seaon in Thailand.
③『VACUUM 』
VACUUM PUMP

ORION Vacuum Pump adopts new vaneless system with hight efficiency and saving energy but not uses old carbon vale system

・Integrate the scatered small pumps into a single large pump with Inverter control.

・NO oii is used for the vacuum channel and never polute the environment.(blower is available too)

・New standard vacuum system

SEPERATOR & FILTERS

​
④『COMPRESSED AIR』
​

ORION Air dryers have High spec model (Made in ) and basic model (Made in ) depending on your budget.

​AIR DRYER & FILTERS
・Eco-Friendly Refrigerant & Desiccant types applied
・Our product can supply CREAN AIR with drain and impurities delited.

DRAIN OIL SEPERATOR *Drain master series
・Saving Environment by deleting oil from drain before disposing. 

BLOWER
・Oil-Free Blower can contribute to Saving Energy by replacing Air Compressor for unnecessary high pressure.

Various Accessories Available
---